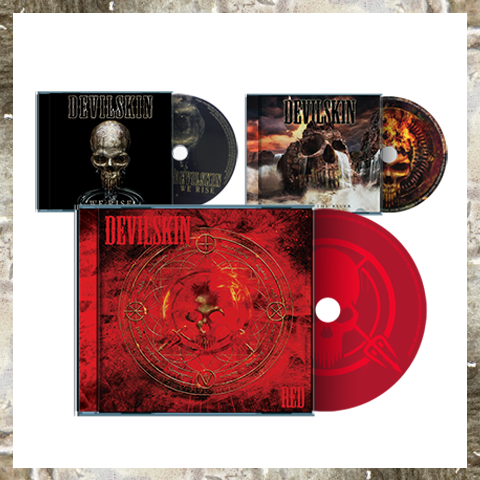 RED + BE LIKE THE RIVER + WE RISE bundle CD PACK
Pre - Order NOW 
3 ALBUMS x CDs -  RED + BE LIKE THE RIVER + WE RISE 
NZ p+p = $7.50,  International p+p = $27.50
RED is the universal colour of passion, vitality, blood, danger, romance, anger, horror and love; everything evocative. Of all the colours, RED is a warning and a statement. 
Recorded at Roundhead Studios Auckland mid-2019 with the award-winning team of producer Greg Haver, and engineer/mixer Simon Gooding; this is the bands most complex, complete and confident collection of songs yet.
RED will be released worldwide Friday April 3rd on all formats across all platforms, including a red vinyl, black vinyl, CD and a limited-edition box set.
Track listing:
DO YOU SEE BIRDS                7. BLOOD & BONE
ALL FALL DOWN                     8. ENDO
CORRODE                                9. BRIGHT LIGHTS
EYES RED HEAVY                    10. SWEET RELEASE
SAME LIFE                                11. BE LIKE THE RIVER
THE VICTOR                             12. EVERYBODY'S HIGH BUT ME